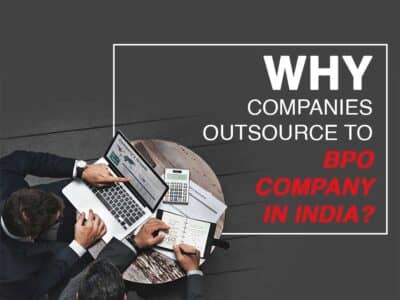 We all know what BPO (Business process outsourcing) defines as. BPO is a professional practice to delegate various business operations to an external company, mainly offshore service providers. Business Process Outsourcing services are handled to perform crucial tasks to save overhead cost and time consumption which improves productivity and risk mitigation, an effective makeover of business.To know more click here.
BPO has become a buzzword since the early 90s at the time of its formation and noticed its rapid growth in the market. Speaking of offshore industries, significant companies in developed countries prefer to outsource several business tasks to offshore providers belonging to countries with lower currency. 
India is one of the leading BPO service providers among other nations such as the Philippines, China etc., with low wages. India stands out in the BPO market due to its integrity, excellent English proficiency, expertise, and willingness to learn globally.
BPO Services in India
Being a competent international counterpart, India has successfully implemented many BPO tasks since 1990. 
From copper wires to advanced technology, BPO services has contributed significantly to the economy of the nation and evolved itself in a diverse market. It's a massive feat for India to be a top BPO service provider from the outset and has created a history. And this takes hard work, rationality and outstanding leadership.
It is ranked 34th in English proficiency globally and 4th in Asia. Companies in India are known to cater high-quality services 24/7 with considerable efficiency. You'll find a pool of qualified and proficient individuals carrying external tasks readily.
A call centre in Ahmedabad is a BPO services provider that undertakes a variety of back-office and front-office works per the client's requirements. Moreover, it serves multiple industries such as Healthcare, Technology, Education, Real Estate and Finance, but not limited to them.
Services offered by BPO companies in India
Technology has grown at breakneck speed over the years, and the internet, which most people rely on, is a part of it. When it comes to IT solutions and software development, India always comes first in the minds of outsourcing projects. 
India plays a crucial role in the IT sector regarding Business process outsourcing services.
The range of services provided by BPO companies in India include:
● Call center services provide 24/7 inbound/outbound customer service support using technology. Some include VOIP via phone, email and chat.
● Efficiently manage services such as data entry, data management and data conversions to PDF, Word, HTML etc. formats securely.
● Accounting services include bookkeeping, accounts receivables, payables, QuickBooks accounting, bank and Payroll reconciliation, and Financial statement preparation.
● Market research and surveys are part of online research where thorough product research is conducted directly with customers and provides competitive analysis for business value propositions.
● The IT support team handles software and hardware problems where they communicate and keep track of issues through the latest technologies and resolve them on time.
● Virtual Assistant tasks, maintaining administrative services majorly and being involved in different elements of work as per the business needs.
● Taking care of the Digital Marketing sector that grows your revenue at low wages brings an abundant amount of profit to the company.
● IT services include installation, troubleshooting, customer service, and product support.
What's new in BPO?
In the early days, they handled customer support, Help desk support and data entry related tasks, but with the advancement of technology, many BPO works are possible. BPO companies in India take full management responsibility as strategic business operations.
BPO service focuses on both horizontal outsourcing and vertical outsourcing.
Horizontal BPO services don't require specific domain knowledge, i.e. Payroll, accounting, sales and marketing, data conversion etc.
Whereas vertical BPO services demand particular domain knowledge and expertise, i.e. Healthcare, Finance, healthcare, finance, manufacturing, recruitment process, etc.
Through all this, we achieve:
● Scalability
● High-quality process
● Combine with the market on a global level
● Cost Savings
● Diverse workforce
● Benefits of broad opinions
Facts about BPO industries in India
● BPO industries are growing at an annual rate of 60%.
● It is predicted that the BPO market in India will hit $8.8 bn by 2025.
● BPO sectors have created a lot of vacancies and given employment to 75,500 skilled and other professionals. The number will be increased and estimated to fulfil 1.2 million job needs.
● Outbound sales in India produce 70% of revenue for the business, 20% comes from the data entry work, and IT sectors provide the other 10%.
● I mentioned – The combined spending from small and medium enterprises will increase at a CAGR of 5.8% over the forecast period.
● Indian BPO companies handle 58% of global BPO services.
Call center Services
Customer representatives manage phone calls, live chat, and email for well-ordered communication in the call centre. They take care of each customer's demands/issues and update them on time. 
This helps businesses build solid connections and maintain the company's integrity through quality and instant support. 
KCMS provides BPO Services in India with high-quality services and innovative BPO solutions. KCMS is not just dealing with call center tasks but various BPO services. Its professional team operates fast and smoothly with expertise, and you can benefit from it. 
KCMS caters extensive BPO services to you and helps in increasing your business value.
Conclusion
Outsourcing can help the business fully concentrate on their core activities or specific tasks while freely leaving other matters in the hands of the BPO company.
This improves the company's productivity and a massive cut in time loss and increases in revenue. 
BPO services in India make it possible for the companies like yours to need such business solutions and deliver a wide range of answers to your customers.